Pristine Sound Quality
Dynamic monsters. Stunning soundstage. Effortless blend. Power without distortion.
Hsu Research speakers and subwoofers are renowned for their pristine sound quality. And that hasn't changed in the last 30 years. With meticulous engineering, HSU products have continued to have an astonishing level of clarity, accuracy, and depth in their sound reproduction. The speakers boast a wide frequency response range, ensuring that every nuance and detail in the audio content is faithfully reproduced, while the subwoofers deliver deep, impactful bass that brings music, movies, and games to life. The precise tuning and integration of drivers, along with advanced crossover designs, result in a seamless blending of frequencies, creating a cohesive and natural soundstage. Hsu Research speakers and subwoofers excel in delivering an unparalleled audio performance that showcases the artistry and craftsmanship behind their products.
Exceptional Engineering
Variable Tuning Freqeuncy
Variable tuning frequency is a groundbreaking concept introduced by Dr. Hsu to the world of audio. Variable tuning allows you to choose how deep your subwoofer plays, on-demand. Choose between a music mode (lower bass extension) or a home theater mode (higher headroom and more impact) in just a few seconds. This gives customers an extreme amount of flexibility to set up and tune the response to their room and desires. Subwoofer designs involve tradeoffs – one cannot optimally design a subwoofer to play low deep notes, and at the same time, play loud with pristine clarity. Rather than making customers choose, HSU has designed its VTF (variable tuning frequency) series. We put the power into your hands: choose which trade-off works for your listening taste, room, and event.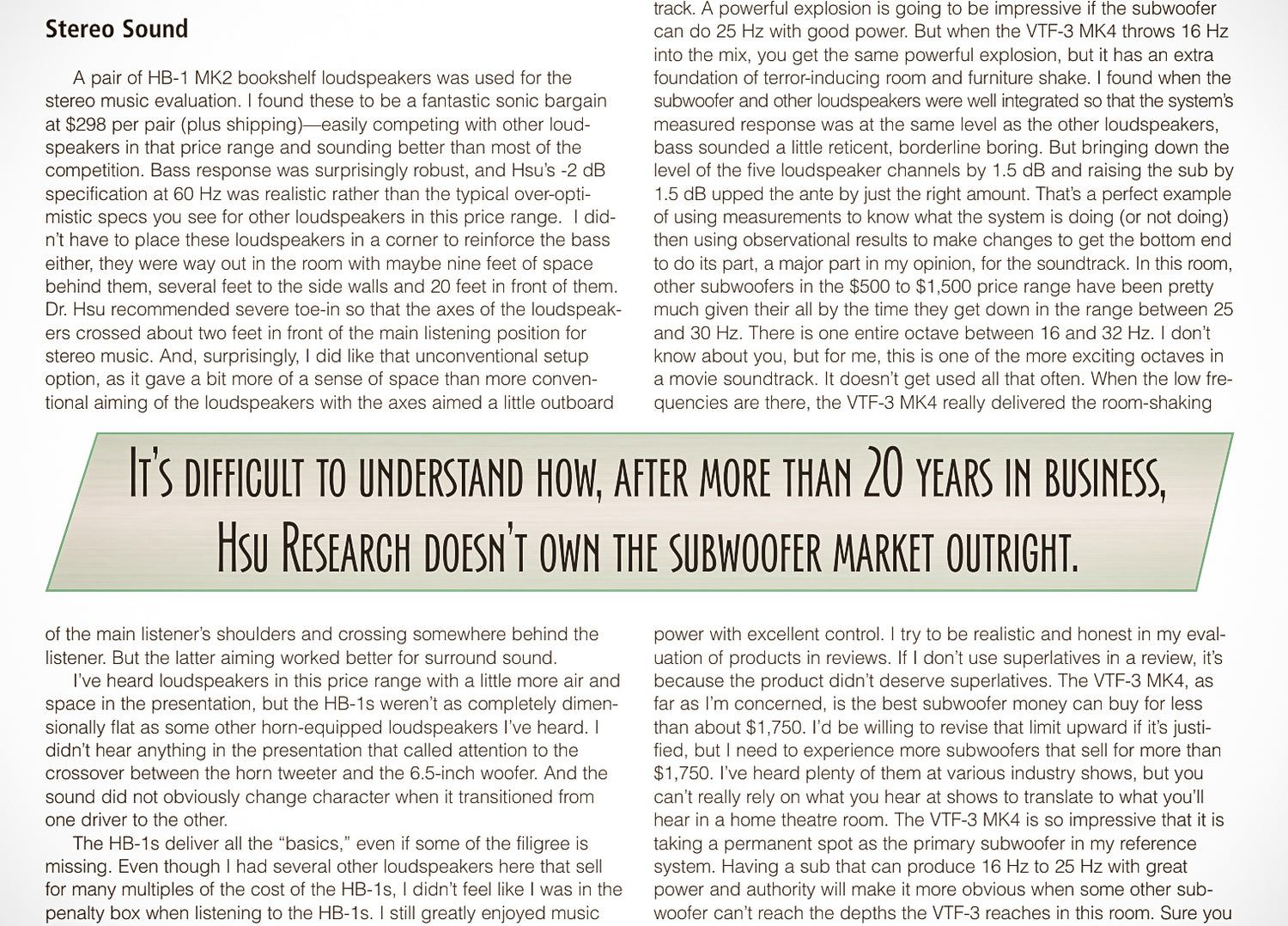 Unparalled Value
High-End Sound at Affordable Prices
When you hear the reviews from industry experts and our customers – "sonic majesty, distortion-free bass, the stuff of dreams,"– everyone imagines a high-end system that costs a check size so massive we don't even want to think about it. With HSU Research's commitment to providing top-notch audio experiences at affordable prices, customers can expect to discover a collection of speakers and subwoofers that surpasses their expectations in terms of both quality and cost-effectiveness. Dr. Hsu is second to none at fine tuning all components to work perfectly together, never letting any resource go to waste. HSU never falls into the industry trap of over-designing woofers.
Personalized Tech Support
Ever thought of buying a home theater system, but felt paralyzed by the number of options or how to set up the best system for your room? HSU Research is here to support you on your journey to crafting the perfect home theater system for your room. By calling, emailing, or filling out this feedback form, get a personalized insight into not only what system might work best for you, but learn straight from Dr. Hsu the optimal placement in your room. Welcome to the HSU Research family!
Repairs On Us
Because we feel so confident in our products, we offer a personalized repair service. Simply call or email us to receive an RMA form and we'll figure out what's wrong and get you back to enjoying your high-end sound system in no time!